"…holding on to Tucker Carlson comes with more risk than reward. Carlson is not a team player, and in fact is uncontrollable." – CNN
To read or listen to this entire essay, please go to: https://khmezek.substack.com/p/biden-totalitarian-regime-btr
To read or listen to all my essays, articles and interviews, please subscribe at: https://khmezek.substack.com/
The firing of Tucker Carlson sends a message to us all. Be a "team player". Don't be an individual. If you speak outside the script, you will be silenced.
With well over 3 million viewers, Carlson had the highest rated show on cable news. People say, why would Fox fire him, it doesn't make sense. Yes, it does. The money Carlson makes, the audience he draws, is nothing compared to the power of the Vast Machine and the men who control it. Men like BlackRock CEO, Larry Fink.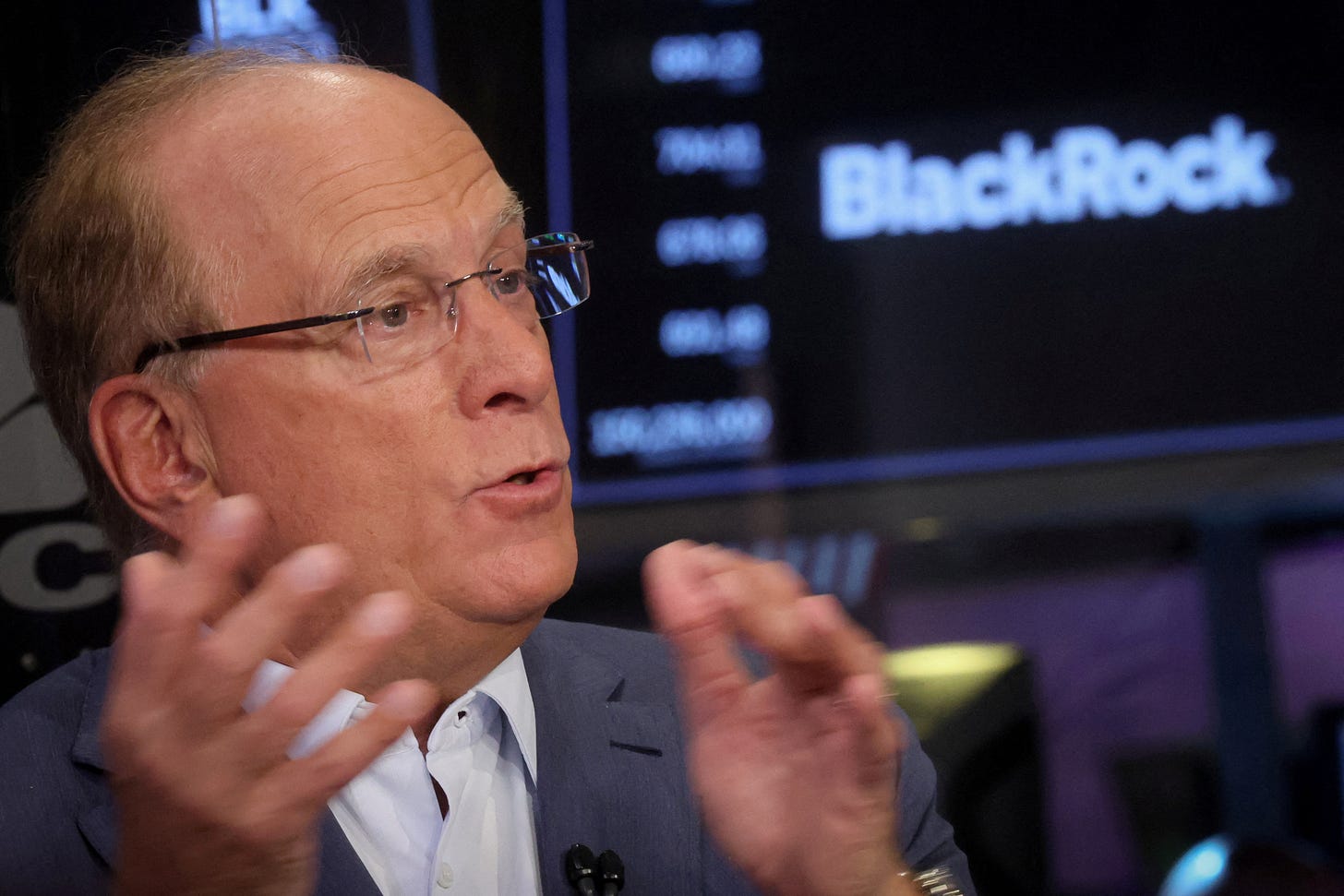 In case you didn't know, BlackRock is the largest institutional owner of Fox A Class shares.
Just days before Carlson was fired, Fink sold nearly 7% of his stake in the asset management giant, netting proceeds of about $25 million. Fink wouldn't care if the entire Fox conglomerate tanked if it meant he made more millions. Tucker Carlson means nothing if he doesn't play ball, just like Joe Rogan, just like James O'Keefe. I won't name more, but the list is growing.
"Turmoil in the markets, like the one sparked by the banking crisis last month, can present "enormous opportunities" for BlackRock, Fink said last week. If it's about money, Fink and his cronies are the ones who always win, not anybody else.
I realize conservatives are saying Carlson's firing is no big deal. He will land somewhere else and make even more money. But that's not the point. If we keep falling for the "money means success" trap, we will always lose. None of us will ever make enough money to play in their court. And if we did, we'd have to be like they are. We'd have to have made a deal with the Devil because no one joins that club without compromising their very souls.
Tucker Carlson has now been relegated to the sidelines. Yes, he will still have millions of viewers. But he will be in the box they have put him in. Everyone who is "uncontrollable" is being put in that box. That includes me and all of the rest of us on Substack, one of the last places where we can write freely. But even within the box we can still encourage one another, share important news, take strength from others' stories. But eventually, we will lose even that. More and more, the difference we make will be determined by how we behave in the real world. That is where the most important battles will be fought. We must set that example by reminding those around us what it means to live in the real world.
I feel frustration and anger watching millions of people on the left cheer Carlson's exit. They have been so brainwashed; they do not realize what is happening. I doubt most of them could be reached with reasonable arguments any longer. They don't understand that their freedoms are at risk, too.
Here, we have AOC celebrating the end of free speech. The social media celebrity that our young people go to for political news.
In the video below, she gleefully says: "Tucker Carlson is out at Fox News. Couldn't have happened to a better guy. This is how 'deplatforming' works."
What a foolish young woman. A pawn in the hands of her controllers.
AOC does what she's supposed to do, and she does it very well. Before the last election, she crashed the Twitch online gaming community and "played a game of "Among Us" alongside Rep. Ilhan Omar (D-Minn.)—another member of the "squad"—in a night that welcomed more than 430,000 viewers, marking her livestream one of the most-watched in Twitch's history".
I am sure we will see AOC working the youth again in this next election.
To top it all off, it is no coincidence that right on the heels of Tucker's firing, Joe Biden launched his campaign for president.
"Let's finish this job," Biden said.
To read or listen to this entire essay, please go to: https://khmezek.substack.com/p/biden-totalitarian-regime-btr