They can try to erase our histories and lie to our children, but truth will prevail. They will never succeed in destroying what it means to be a mother.
To read and/or listen to this entire essay, please go to https://khmezek.substack.com/p/a-mothers-letter-to-her-newborn-child
To read and listen to all my essays, articles and interviews please subscribe to https://khmezek.substack.com/
I'm a little late to the party with this post but I've been busy being a grandma this weekend. It's amazing to me to look at the photo below and think that my daughter was a newborn baby and my mom had come to visit for two weeks, from Los Angeles to London, to help me—surely that only happened yesterday, not in 1992!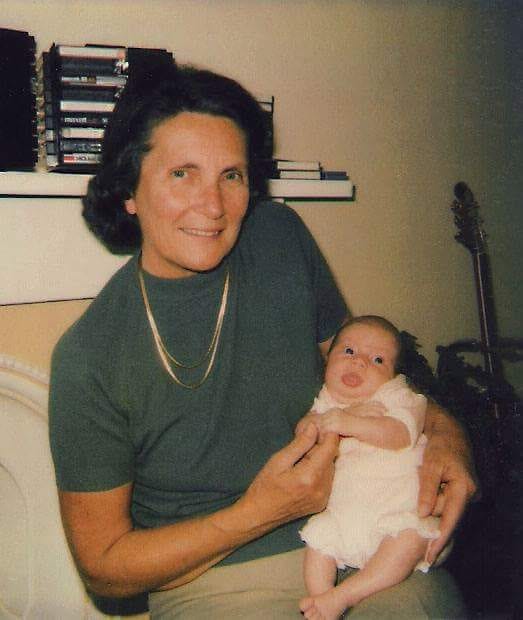 Now my daughter is a grown woman, and she is the mom being celebrated today. I am the grandma. I sing the songs to my grandchildren that my mom sang to me. I read them the children's books that I wrote and illustrated and dedicated to my children. Passing our stories on to the next generation is something I write a lot about. The new regime wants to erase our stories, the very essence of who we are, and we can't let that happen.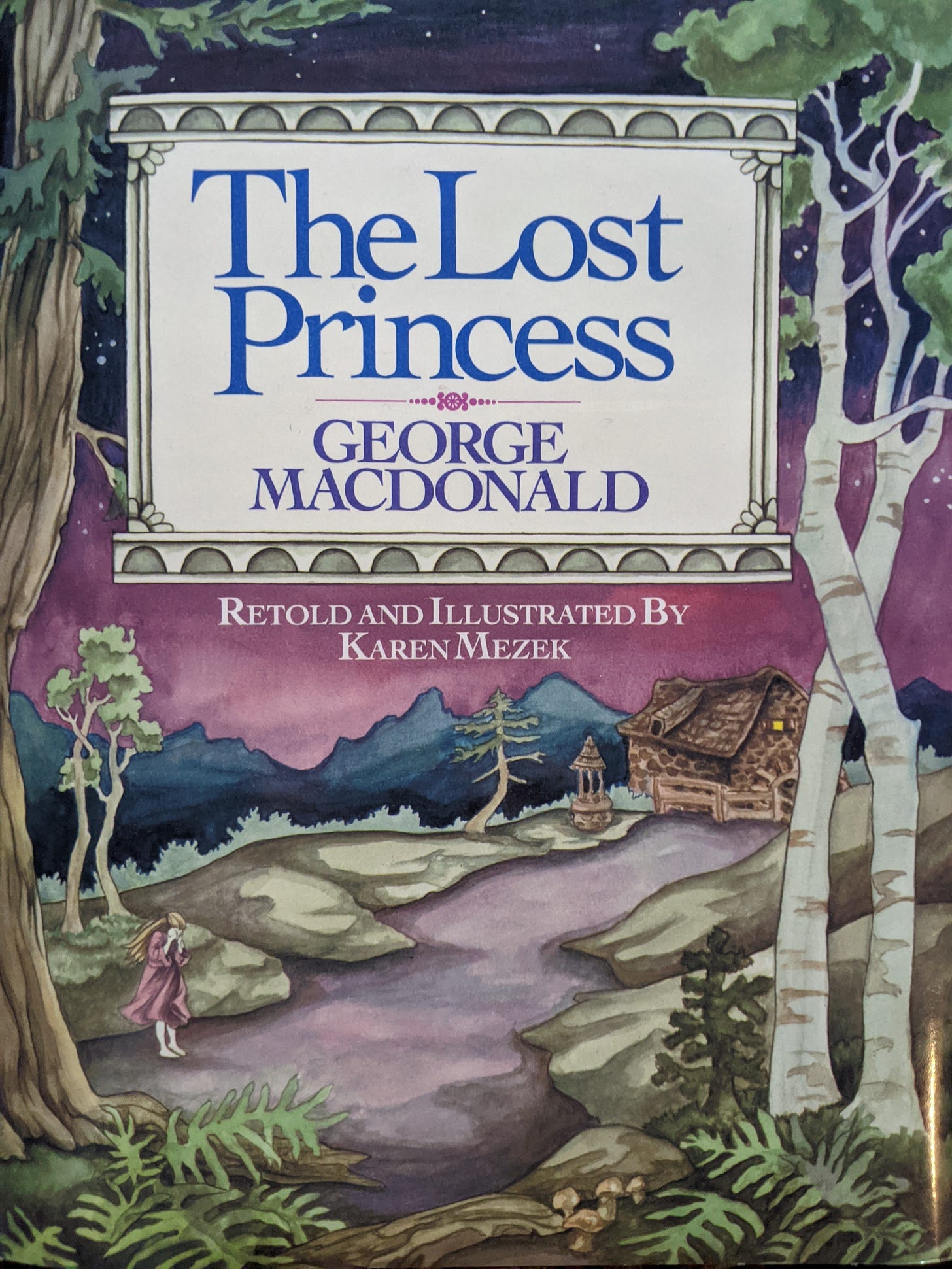 My mom, Ruth Klassen Hunt, was a Mennonite. As a child, she lived in Winnepeg, Canada, with her brother, mother and father. I have many relatives there, hardworking farmers, and I remember visiting them as a child. I remember swimming in the pond, playing all day, climbing on tractors and chasing after animals. At mealtime, the table was covered with bountiful food. I wonder how long it will be before those ways of living will be gone forever.
My grandfather was a traveling preacher. He would leave the family alone for long periods of time while he went off preaching the gospel. My mom recalls living in a barn, with sawdust on the floor. She grew up so poor all they had to eat at times was raw oats and she described to us how hard it was to chew and swallow. Imagine, after that, how lame it was to complain at the dinner table if I didn't like something. It seemed a sorry reason not to eat my dinner—although that didn't stop me from making my excuses. Her parents were very strict. So strict that she wasn't allowed any toys. Once, a neighbor gave her a doll and it was taken away. I would think all of this would have made her harbor resentment and bitterness, but that was not the case at all. She took the good from her upbringing and left the negative behind.
Mom met my dad, Christian author Dave Hunt, at UCLA where she graduated with a degree in history. You can watch a fantastic talk of his below:
Mom became the anchor without which my dad would have been lost. She kept everything organized and edited his books. She answered his mail and reminded him of the practicalities of life, like what time he had to leave for his flight to India, or wherever, that the car needed to be washed on Saturday night so it would be shiny clean on Sunday morning, or that the taxes had to be done on time, things like that.
Both my parents loved telling stories to us in the evenings. My mom often recounted stories of our Mennonite heritage. In one of my first essays, I tell a little bit about one of those stories. She can trace our family all the way back to Anabaptists of the 16th century. Indeed, one of my ancestors died in a Spanish prison for refusing to give up his faith.
The many stories of courage of those who were tortured and died are immortalized in a book called The Martyrs' Mirror, compiled by Thieleman van Braught in 17th century Netherlands. It was written as an exhortation to believers who had grown a little too complacent in their faith.
We would do well to take these stories to heart today.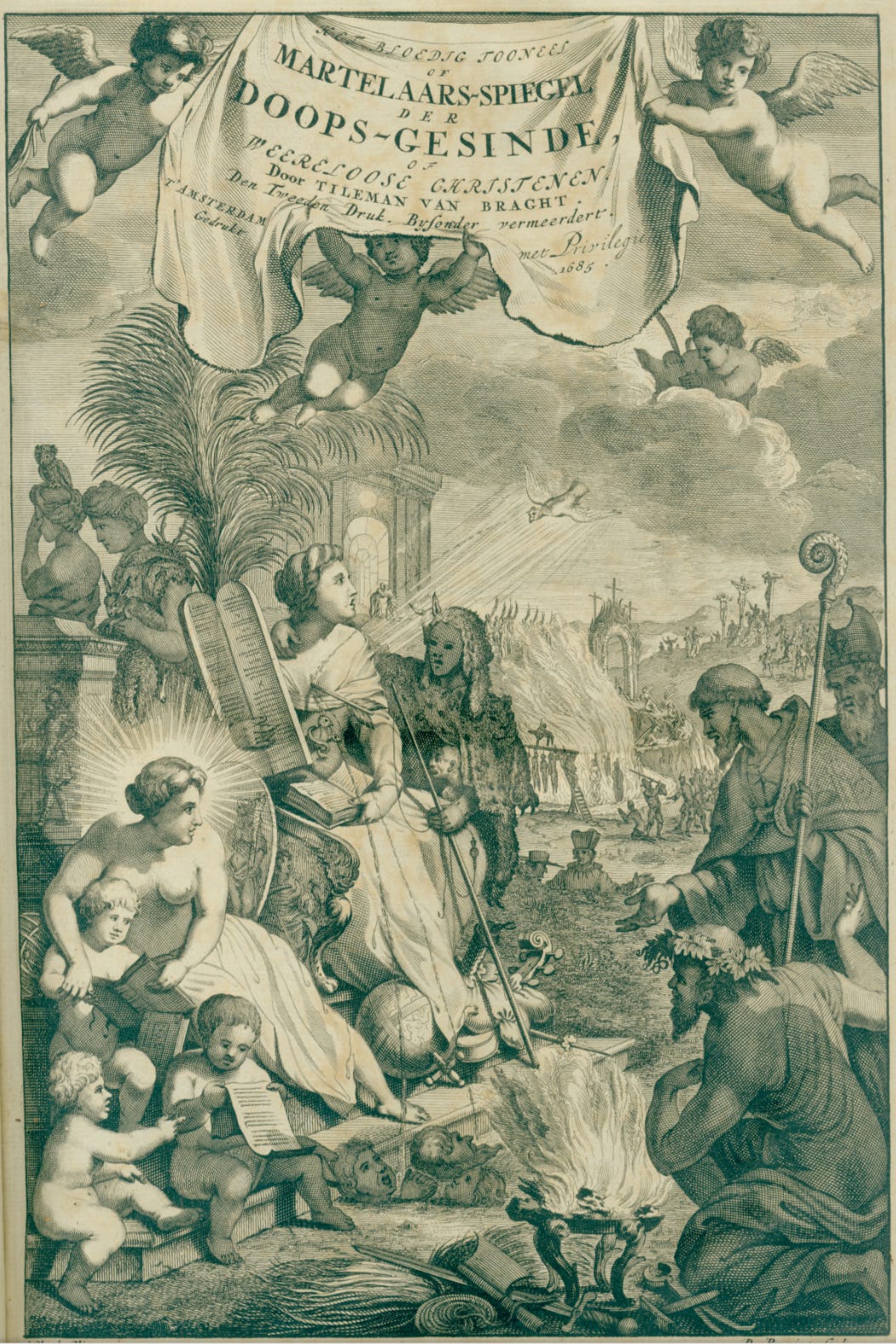 I want to recount one of the stories that my mother told us when we were children. It is about a mother who had to give up her newborn baby when she was martyred for her faith. It's called A Mother's Farewell: Letter by Janneken Muntsdorp, Martyred in 1573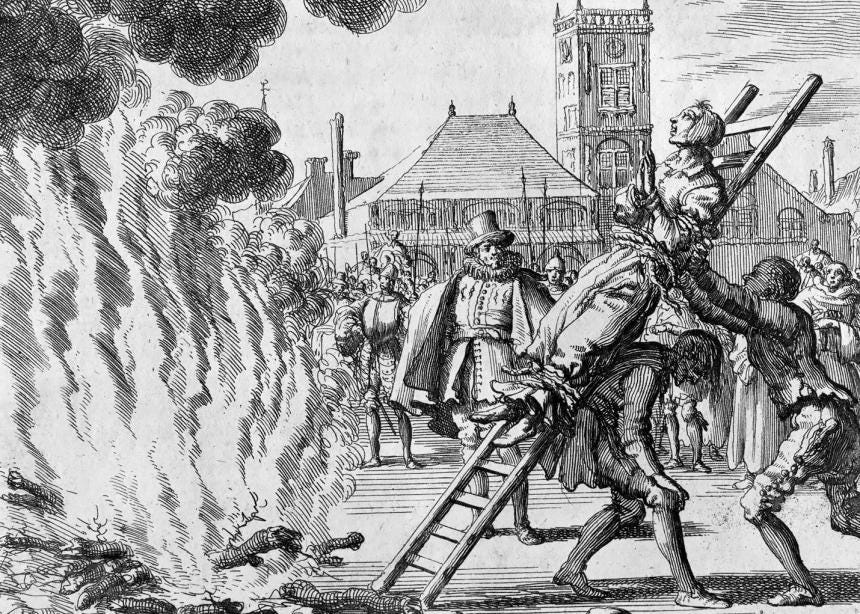 Here is an explanation of how Janneken came to be executed, her husband preceding her, recorded in The Martyrs' Mirror:
…This was first put into execution on Hans van Munstdorp, who, about the month of September of the aforesaid year, was taken out of the fold, away from the other four, as a sheep for the slaughter, and; according to the sentence passed, put to death with a huge fire, which severe and grievous death he steadfastly endured, with a heart full of good cheer:
The reason why the other four persons were not put to death with him, was chiefly because his wife Janneken Munstdorp was very far advanced in pregnancy, and was soon to be delivered, which took place shortly after her dear husband was burnt. She was delivered of a little daughter, whom she, since she was now also soon to die, named, after her own name, Janneken, and made great haste to get the child (before the priests should lay hands on it) to the friends, to whom she heartily commended it, and also wrote a testament full of excellent instructions to this little daughter, when she was about a month old, which testament the friends preserved for her.
When the time of her offering up was at hand, so that she was sentenced on the 6th of October, to follow her husband by a like death; which message also the other three women, namely, Mariken, Lijskeiz, and Maeyken, received, for which they joyfully and willingly prepared themselves, longing for the hour of their redemption.
This sentence was executed on them at the time and hour appointed, when they offered up to the Lord a living sacrifice, holy and acceptable, for which they shall hereafter be exempt from eternal fire, and permitted to enter into the blessed enjoyment in the paradise of God. They shall hunger no more, neither thirst any more; neither shall the sun light on them, nor any heat. For the Lamb which is in the midst of the throne shall feed them, and shall lead them unto living fountains of waters: and God shall wipe away all tears from their eyes. Revelation 7:16, 17. (van Braught, 1660, p.984).
My mom read Janneken's letter to her child to us more than once, her voice filled with emotion and her eyes near tears. Here is a portion of the letter (you can read it all here):
To read or listen to the rest of this essay please go to https://khmezek.substack.com/p/a-mothers-letter-to-her-newborn-child